Best 3-in-1 automatic fruit juice beverage filling capping machine Supplier Company - Sokos
Sokos Best 3-in-1 automatic fruit juice beverage filling capping machine Supplier Company - Sokos,Exported to more than 50 countries,Our company is a manufacturer specializing in the production of filling machines, with more than ten years of industry experience, and our products cover 56 countries around the world.
SEND INQUIRY NOW
CONTACT US
Telephone:
+86 0512 5866 8468
WhatsApp:
+86-17751188556
To ensure its quality, the professional test procedures are adopted by our QC team.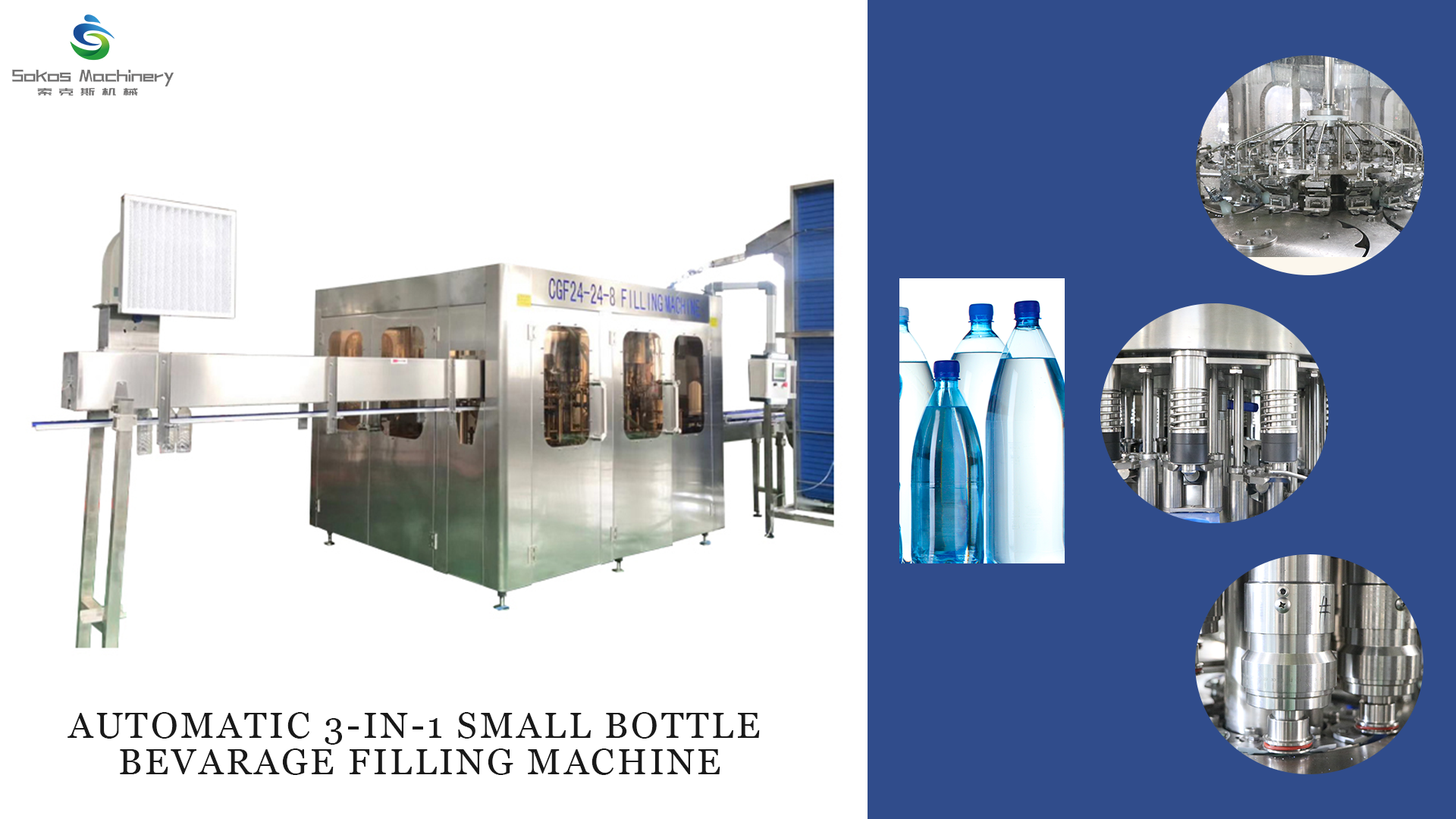 WATER Filling line
1 - Sokos Machine Water Treatment. 1 Raw water tank + Raw water pump
2 Silica sand filter + Active carbon filter + Sodium ion exchanger + Precision filter + Security filter
3 Reverse Osmosis (one level)
4 UV sterilizer
5 Finished water tank + Pure water pump
1/ Stainless steel high pressure film shell
2/ All kinds of capacity indicator, pressure indicator, electricity magnetic valve, balance device and pipe valve system
3/ Online type pressure auto self-protection device
4/ Online type electricity indicator (with stable compensation)
5/ System safe protecting and alarm system
6/System frame
2 - Sokos Machine Blow Molding Machine. 1 / Sokos Machine Blower : Industry-leading blower performance with patented control and self-regulation systems for repeatable and consistently high bottle quality
2 / Production flexibility: Up to 200 different equipment size configurations from one platform
3 / Top quality: Electrical stretching for bottle integrity, full material distribution control and performance
4 / Fast output: Boosted uptime and speed (up to 2,400 bottles/mould/hour)
5 / Efficient consumption: Up to 45 % less electricity and 35 % less compressed air
3 - Sokos CGF Water Filling Machine [ Washing Filling Capping 3 in 1 type ] 1 / Enhanced food safety: Stainless steel 304/316L for all components in contact with your beverage
2 / Optimum uptime: 30 % reduction in changeover and maintenance downtime
3 / Sustainable solution: Reduced filler enclosure and servomotors reduce resource consumption
4 / Hygiene improvement through volume control and contactless filling
5 / Automatic dummy bottles: Safer, easier cleaning procedures
6 / Automatic bottle changeover improves uptime
4 - Sokos Machine Labeling Machine. Boasting four carousel sizes, up to three labelling stations and 24 configurations, can generate outputs of up to 72,000 containers per hour, when standalone, at an efficiency rate of 98%.

Benefits
1 / Greater performance and ergonomics
2 / Boasted production uptime
3 / Sustainable and quality production
5 -Sokos Machine Packing Machine. Once your beverage product has been filled and the bottle has been labelled, the primary package is gently transferred using conveyors to its secondary packaging process. The final result is the package the customer sees at the point of sale, so it needs to grab their attention. These packs ensure protection from elements such as weather, pressure and temperature changes.
Whether you choose shrink-printed film, nested packs or wraparound cartons, King Machine packers gently feed bottles to ensure durable and cost-effective packs.

Benfits.
1 / Pack consistency and quality
2 / Gentle and precise infeed configuration
3 / Flexible handling of multiple SKUs
4 / Automatic pack and raw material changeovers
5 / Heat, glue, carton and film optimisation
FAQ
1.(1)How to search sokos machinery.
● Search Alibaba, Made in China, Google, Youtube and find suppliers and manufactrue and not traders.
2.(2)Other ways to find sokos machinery
● Visit exhibition in different countries. ● Send NEWPEAK MACHINERY an request and tell your basic inquiry. ● SOKOS MACHINERY sales manager will reply you in short time and add instant chatting tool.
3.(3)You are welcome to our factory at any time.
● The meaning of visiting supplier, because seeing is believing, SOKOS MACHINERY with own manufacture and developed& research team, we can send you engineers and make sure your after sales service.
Advantages
1.24 years' experience in Beverage Machinery
2.Professional Certificate
3.Exported to more than 50 countries
About Sokos Zhangjiagang Sokos machinery co., LTD. is located in zhangjiagang city, Jiangsu Province, China which is one of the professional manufacturer of liquid filling equipment for over 24 years experience in this field. Sokos Machinery has the general management office, sales department, the finance department and production workshop. All departments work together and the team is unified;Committed to serving domestic and foreign customers; Sokos has Modern factory workshop; More than 10 technical engineers and debugging engineers; Provide the most professional technical services; Production lines include: water production line, juice, tea beverage production line, gas-filled beverage production line, beer complete filling production line. Supporting all different Auxiliary machine such as: automatic blow molding machine, labeling machine, packing machine as so on. Sokos Machine not only sold well in China, but also exported to dozens of countries. have installed our production line in more than 50 countries and regions. Sokos provides turn-key projects, and warmly welcomes people from all over the world to come to our company for inspection and guidance. Achieve win-win cooperation! IF YOU HAVE MORE QUESTIONS,WRITE TO US
Just tell us your requirements, we can do more than you can imagine.