This series of machine integrates washing, filling and capping into one unit, it can be used for hot-filling production of different kinds of fruit juice, tea , and also can be used for water.
Automatic 3-in-1 juice filling production line.This product is suitable for juice,chilli sauce,milk drinks,etc.We can customize production line of 2000bph~31500bph .Sokos has 24 years's experience in beverage machinery manufacturing, and has CE, SGS, ISO and other qualification certificates.Our machines are exported to more than 50 countries
Sokos Best 3-in-1 automatic fruit juice beverage filling capping machine Supplier Company - Sokos,Exported to more than 50 countries,Our company is a manufacturer specializing in the production of filling machines, with more than ten years of industry experience, and our products cover 56 countries around the world.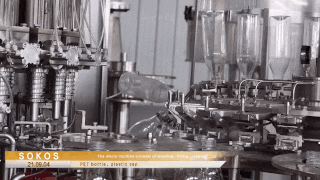 Automatic thick juice filling machine -1)Using plunger valve filling, double gas tank plunger filling technology. -2)Suitable for filling lines for edible oil, juice, sauce, etc.-3)The speed is adjustable, the liquid level is adjustable, the whole machine is made of SUS304 stainless steel, and the silver gray high-end atmosphere.